Testimonials: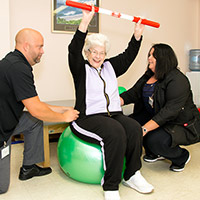 "I have been a rehab resident for over three months now. I cannot say enough about how pleased I am with my therapy and the wonderful Therapy Staff. They are all fabulous!"
— Barb
Resident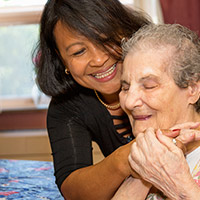 "I have worked here as both a CNA and now as an activity aide. My employment here has been just over 2 years, and I find I get such fulfillment and enjoyment knowing that what I do makes a difference in the lives of some very special people. My time spent with our residents is filled with joy and laughter and my day just flies by. How many people can say that about their job?"
— Felisa
Activity Aide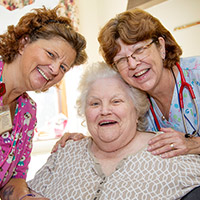 "My mother has been a resident here for better than 2yrs. We always look forward to what activities are taking place and find that they have come a long way to please the residents. We especially enjoy the variety of music entertainment and the delicious refreshments that follow. Seeing mom smile brings me great comfort."
— Valarie
Family Member
We pride ourselves on providing our community members the highest quality-of-life by partnering with residents and families to foster meaningful relationships. Our hand-picked staff is committed to developing the physical, emotional, and spiritual potential of our residents.
COME VISIT, AND SEE HOW WE MAKE CARE PERSONAL
We offer compassionate and dignified care to promote each of our residents' physical and emotional well-being. Our rehabilitation team provides customized rehabilitation plans and measurable, concrete results, while our long-term care team builds and nurtures our vibrant community.
ALL WHILE PROVIDING PROVEN, HIGH-LEVEL CARE